What we do: Tattoos
Three Kings is a tattoo parlour established in Deptford, South East London in 2020. We are the London branch of the mega successful US brand, which is owned by lead artist Amanda Rodriguez. Our artists provide newbies and serious collectors with custom tattoos to help them commemorate a loved one, moment in time, self-love or just for fun! 
We specialise in botanical, traditional, Japanese and blackwork tattoos. As we are a custom shop, we don't have general flash books to look at and encourage you to bring references of your idea in and the artist can replicate or improve. Simple designs can be done by any artist, while with larger pieces its best to work with an artist most suited to the style you are looking for. 
Check our artists portfolios below and if you'd like to book in with one of our artists you can get in touch with us by clicking here.
---
Our Artists
Amanda Rodriguez
Amanda has been tattooing since 2008. Originally coming from a fine art, black & grey pencil drawing background, her style has shifted over the years to favor mixing traditional elements with some realism. Her favorite subjects are flowers, skulls, and animals but is always up for a challenge.
Colin Clark
Colin enjoys exploring both Eastern and Western historical and Esoteric imagery within his tattooing. 
Both an artist and scientist by training, wildlife and the natural world are among his favorite subject matter.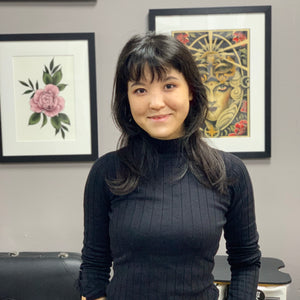 Seneida Leong
Growing up with the influence of Manga and illustrations, Seneida has always loved to draw in fine line and detail. She started tattooing as an apprentice under F Cheung in 2017. 
Her style is a fusion of illustrative blackwork and dark art. Yoshitaka Amano and Beksiński are some of her favourite artists.
Jjay Sleight
Jay Sleight also known as 'JJ' born and raised in Brixton, south London. JJ has always had a background in arts and illustration,from pencil and ball point pen sketches to water colour paintings. With his distinct style comprising illustrative fine-line black and grey tattoos infused with hints of realism, Jjay has mastered the art of tattooing nature, animals, and ornamental designs. So, whether you seek a delicate bloom representing the beauty of nature, an awe-inspiring animal portrait, or an exquisite ornamental piece, Jjay is the artist who can turn your vision into a stunning work of art.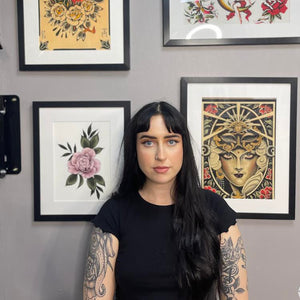 Jessica Platt
Jessica's path into the industry began through her passion for flash painting, especially American traditional style. She's carried this through into her own tattooing where she's introduced a feminine twist on old school flash. Her work often uses bright colours and bold lines. Originally from South East London she apprenticed in Romford and has now returned to work more locally.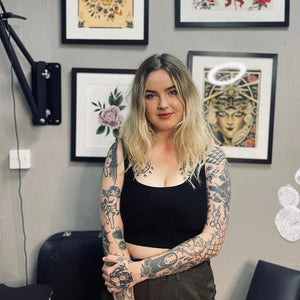 Jess Sayers
Jess has relocated from the Sunshine Coast in Queensland, Australia. She started her apprenticeship in 2019, and instantly loved blackwork American traditional inspired tattoos. Her style varies from the classics, to more detailed pieces with neo traditional elements. With a keen interest on ladies faces in a stylised traditional way.